Osian Tour
Osian (Osiyan), also known as the 'Khajuraho of Rajasthan', has earned this name due to its many temples, some of which are very erotic. It is an ancient temple city located 65 kms north of Jodhpur in the state of Rajasthan in western India.
This place is of utmost significance to the Jains and the Hindus as some of their most important shrines lie in this beautiful city. Amongst the many temples that this town is host to, the ones that stand out in their beauty and grandeur are the Surya or Sun Temple, the Sachiya Mata Temple and the main Jain temple dedicated to Lord Mahavira. Endowed with golden sand dunes all around, one can get a majestic aerial view of this place from the Sachiya Mata Temple.
SACHIYA MATA TEMPLE
Sachiya Mata Temple of Osian is situated on a hill, towards the north-east of the Mahavira Temple is the most preferred attraction of the city. It is dedicated to the wife of Lord Indra, Goddess Sachiya Mata who is of equal significance to both Jains and
Hindus.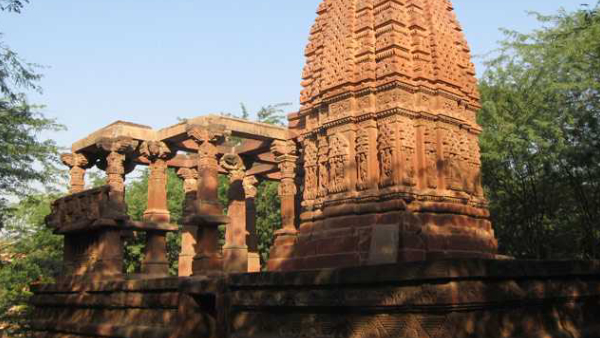 SURYA TEMPLE
The Surya temple, located in Osian, Jodhpur District of Rajasthan, India is dedicated to the Sun God, Surya as the name suggests. There is an open mandap around the temple which is mainly used for weddings and other ritual ceremonies that are held in the temple.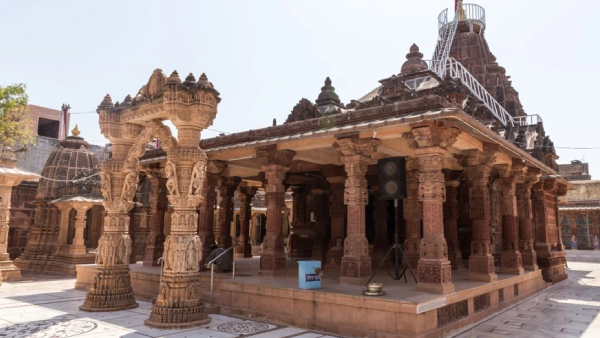 THE MAHAVIRA TEMPLE
In the center of the temple lies the gigantic 32 inch sandstone statue of Lord Mahavira in the padmasana posture. The Main sanctum Sanctorum and the temple is surrounded by around 8-9 smaller shrines in the inner courtyard. Each of the these shrines have beautifully crafted statues all over the walls.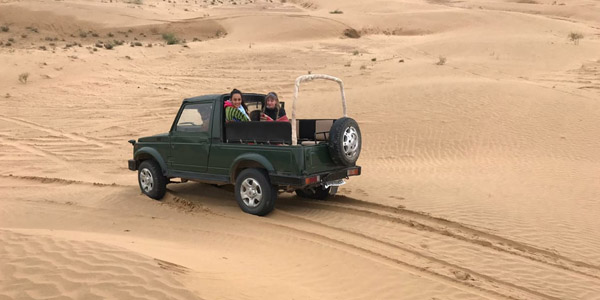 JEEP SAFARI IN OSIAN
The sizzling aspect of diving into the sands at the Thar Desert leading you to uncover the charisma of the barren aisle of the desert and village in Osian , a Jeep safari in Osian can be the finest way to do so . The pursuit would make you sneak into the pristine aura of Osian , the magnificent architecture , the shades of the sun and a adventure .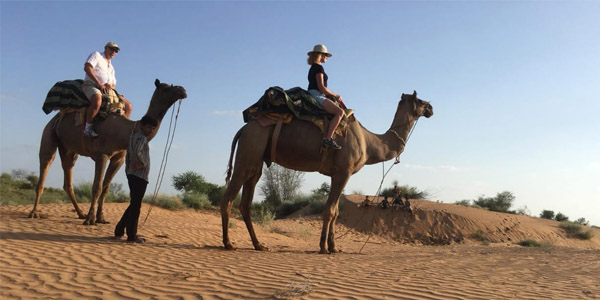 OSIAN CAMEL SAFARI
A short country drive just 62 kilometres away from the Blue city , Osian has a lot in is a treasure trove . The ancient silk trading route town is dotted with ancient temples and is filled with tales of the past . A camel safari in Osian would be an amazing way to unravel the glories of the town and the magnificence of the temple and its architecture.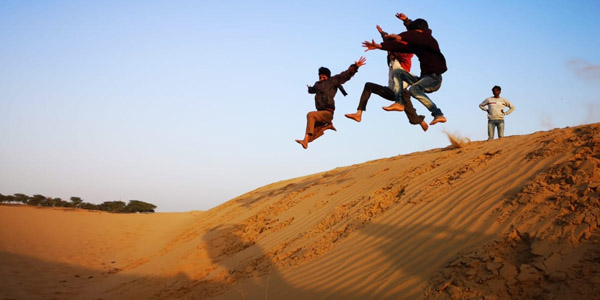 TREKKING IN VILLAGE
Jodhpur refers to a major visitor point that is based in Rajasthan and regarded as the 'Blue City' due to the mesmerizing charm of blue houses and structures that one gets to witness when in Jodhpur.Jodhpur constitutes a series of creative village habitations that are a must to explore if you wish to traverse through the true Rajasthani art and cultural.